Introducing 
LEGACY COLLECTION
Dekora Album Co. is proud to release our LEGACY COLLECTION. This curated heirloom collection offers a selection of the finest refinements in the album industry. These finely handcrafted album and matching slipcase collections are sure to please your most discerning clientele.
The LEGACY COLLECTION is available in two different album styles featuring the finest printing processes available. Please note that all volumes within your legacy collection must be the same print process.
PHOTOGRAPHIC VOLUMES
Choose from our most popular professional photographic sliver halide page/spreads. with a thin core (default) and a thicker core** upgrade option.
PHOTO LUSTRE: Semi gloss pebbled texture surface.
PHOTO MATTE:  less sheen/texture than photo lustre plus soft overall contrast.
                                            FINE ART "GICLEE" VOLUMES
FINE ART "GICLEE": A matte museum grade fine art printing process on super smooth cotton rag printed using archival inks for the ultimate in fine art.
Please Note: 
The Legacy Collection albums start and finish with a 1/2 spread by default
ALL "LEGACY" albums with THIN CORE (default) can be configured in spread counts of 10-50 spreads each volume. THICKER CORE** albums can be configured in spread counts of 10-35 spreads each volume.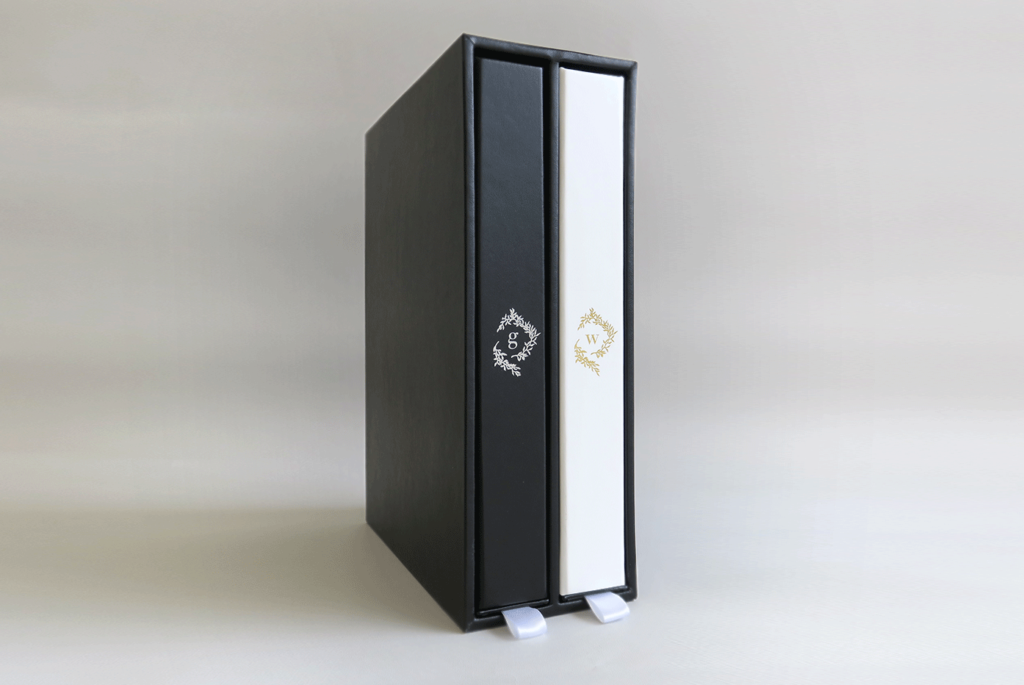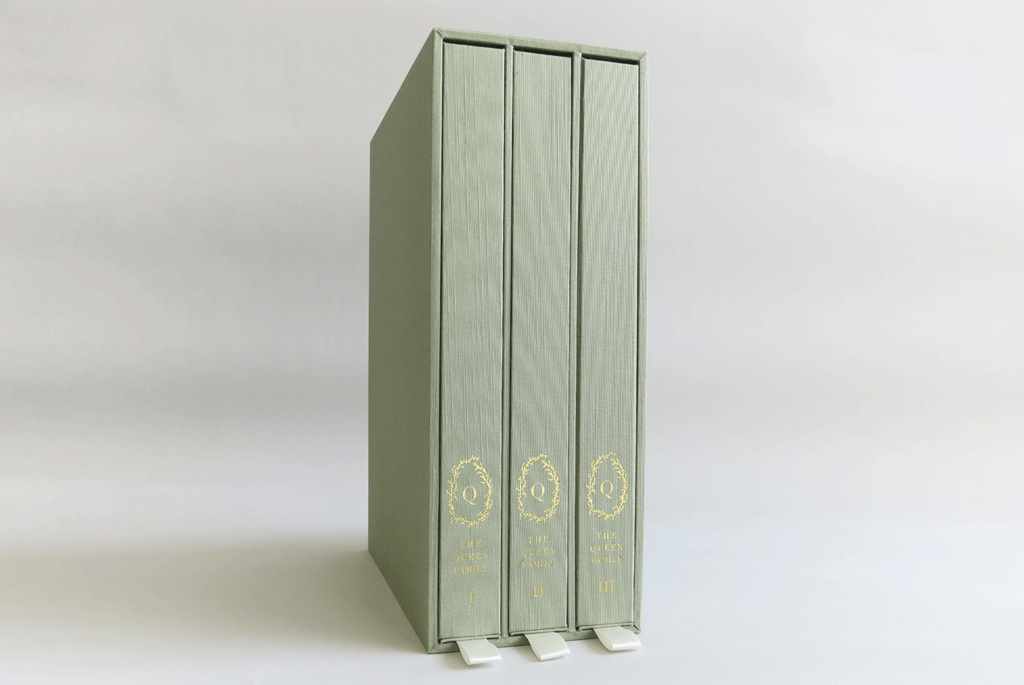 VOLUME (SLIPCASE) CONFIGURATIONS
The matching material slipcase portion of your LEGACY COLLECTION can be configured starting from a single volume all the way up to a 5 volume configuration.
Please be advised that all volumes and slipcase configurations are recommended to be in the same material selections.
A custom made "ALBUM GLIDER" will be included with each compartment in a matching or complimentary material to support each volume during storage and make each album easy to remove from the slipcase for viewing. 
Note: for collections configured in vegan suede or french velvet the slipcase lining and album glider are constructed in mystic black buckram.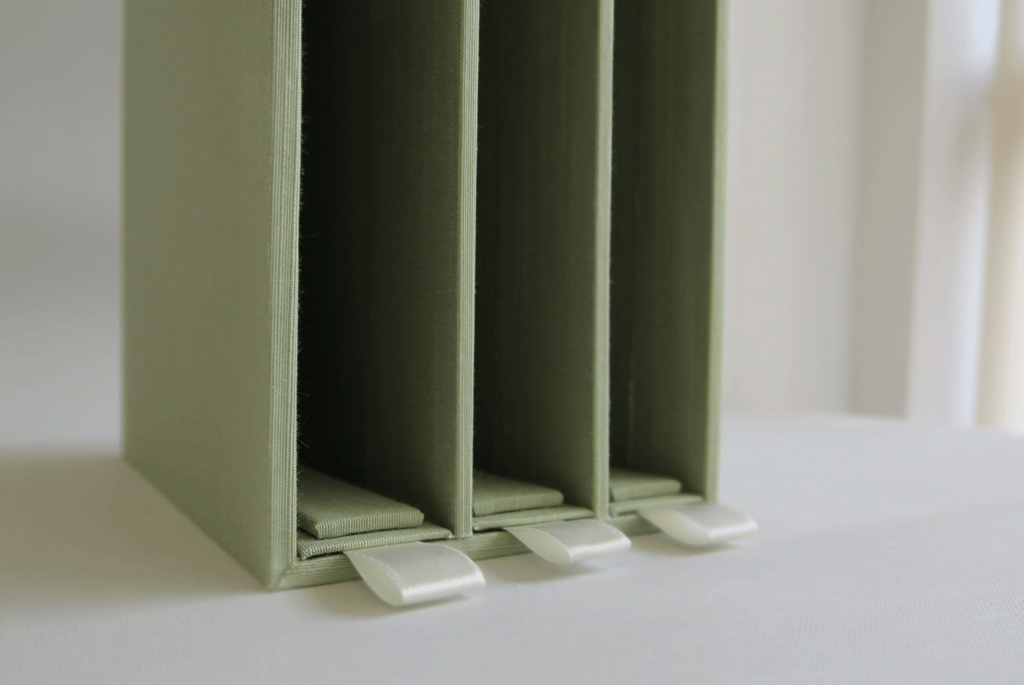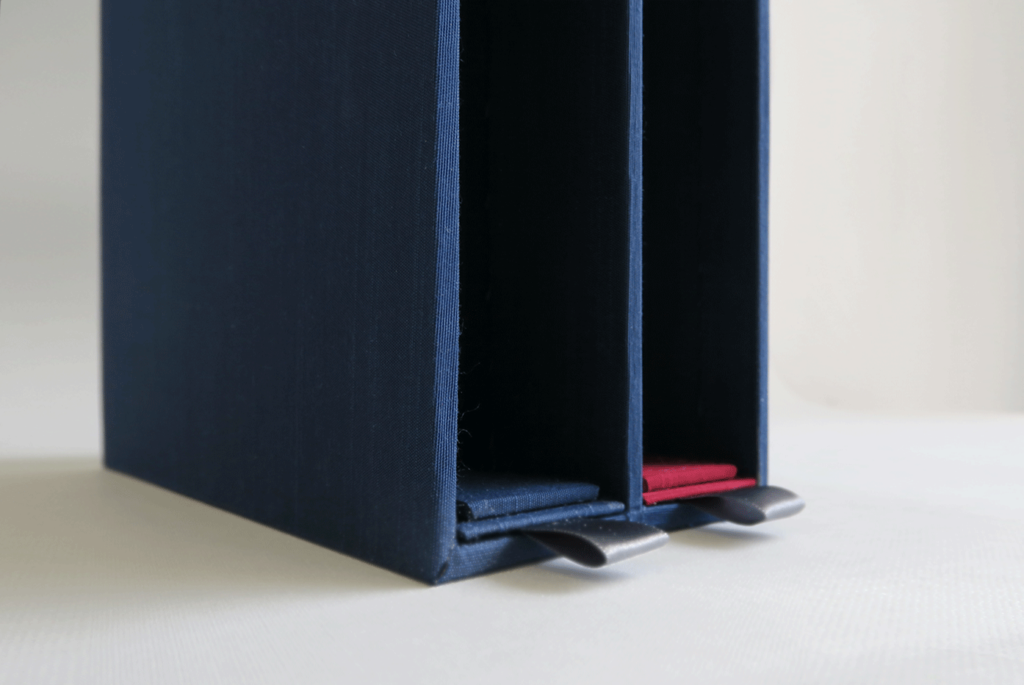 The LEGACY COLLECTION offers some elegant add on features to compliment your album (volume) designs.
COVER IMPRINT: Select from our text imprint, house calligraphy or supply your own custom designs.
SPINE IMPRINT: Select from our curated collection of semi custom spine imprint options or upload your own design using our templates.
VELLUM ADD ON: Add a beautiful semi transparent entrance to each volume to elevate each album. Vellum can be blank or printed using the instructions found HERE
Ordering sample of your own LEGACY COLLECTION is a MUST. Studio Samples are essential sales and marketing tools. A sample product will serve you well to market your imagery and brand to new and existing clients.  
Having tangible product samples will allow you to encourage clients to value the investment in a heirloom product of their own.
Dekora currently offers a studio sample discounts via our SHOP 
The LEGACY COLLECTION will soon be available in your favourite album design software suites like Fundy Software, Smart Albums & Album Stomp and the NEW Album Works can not only save your time in your album design but streamline your workflow and allow more time for making money and promoting your brand. These software solutions take make album design fun and easy.